PAIN AFTER TOTAL HIP REPLACEMENT
Hip replacements are generally highly successful operations, and provide excellent relief of pain, restoration of function and preservation of independence.  However, problems can arise which can lead to pain, stiffness, limping, dislocation or instability.
If you are suffering from any of these symptoms and have a total hip replacement it is advisable to be reviewed by a Specialist Orthopaedic Surgeon with an interest in hip joint replacement surgery.  There can be a wide variety of potential problems with your hip replacement which may be causing it to be painful, and it is important to ensure that it has been thoroughly investigated prior to undergoing treatment.
Painful Hip Replacement Causes
Causes of pain from total hip replacement include:
Wear of the bearing surfaces (eg plastic, metal or ceramic)
Loosening of the hip replacement
Infection
Fractures
Soft tissue Irritation: eg Psoas tendinitis, Iliotibial Band Irritation
Muscle Fatigue/Dysfunction: eg Abductor stress/Overload
Investigations for Painful Hip Replacements
Common diagnostic tests for a painful hip replacement include:
X Rays
Blood tests
CT Scans
Bone Scans
MRI Scans
Treatment needs to be directed at the cause of the problem, therefore it can be quite variable – from simple physiotherapy, to exchange (Revision) of the hip replacement.
Non Operative Treatment can include:
Physiotherapy and Muscle Retraining/Strengthening
Injections: eg steroids, PRP (platelet rich plasma)
Activity Modification
Surgical Treatment can include:
Arthroscopic Assessment
Arthroscopic Psoas Fractional Lengthening
Tendon Repairs (Open or Arthroscopic)
Bursectomies (excision of inflamed soft tissue)
Partial Exchange of the hip replacement (Partial Revision)
Complete Exchange of the Hip Replacement (Total Revision)
Dr Slattery's Experience with Problematic Hip Replacements
Dr Slattery is highly experienced in dealing with painful hip replacements, as it is a key interest of his.  He has extensive experience treating problems arising from hip implants both operative and non-operatively.  He has spent many years both in Australia and overseas investigating and treating problematic hip replacements, and he is skilled in advanced minimally invasive arthroscopic as well as open techniques.
Please make an appointment to discuss in person your exact problem, as there are often solutions available and we aim to make all hip replacements pain free.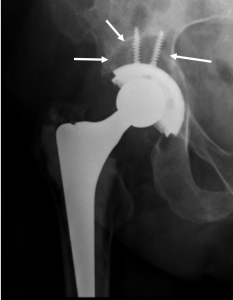 Above: White arrows indicating osteolysis (bone erosion) behind a total hip replacement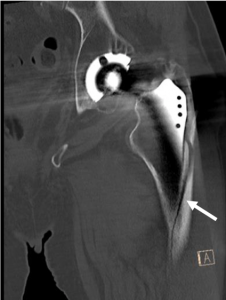 Above: White arrow indicating a fracture around a total hip replacement on a CT scan

Above: Loosening of a total hip replacement with migration of the cup and massive bone loss. This was treated with a custom made 3D printed component (Below)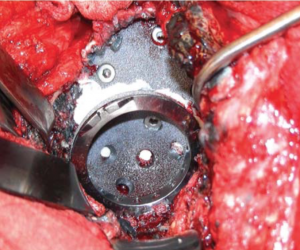 To book an appointment please contact Dr Slattery's rooms on
03 5752 5020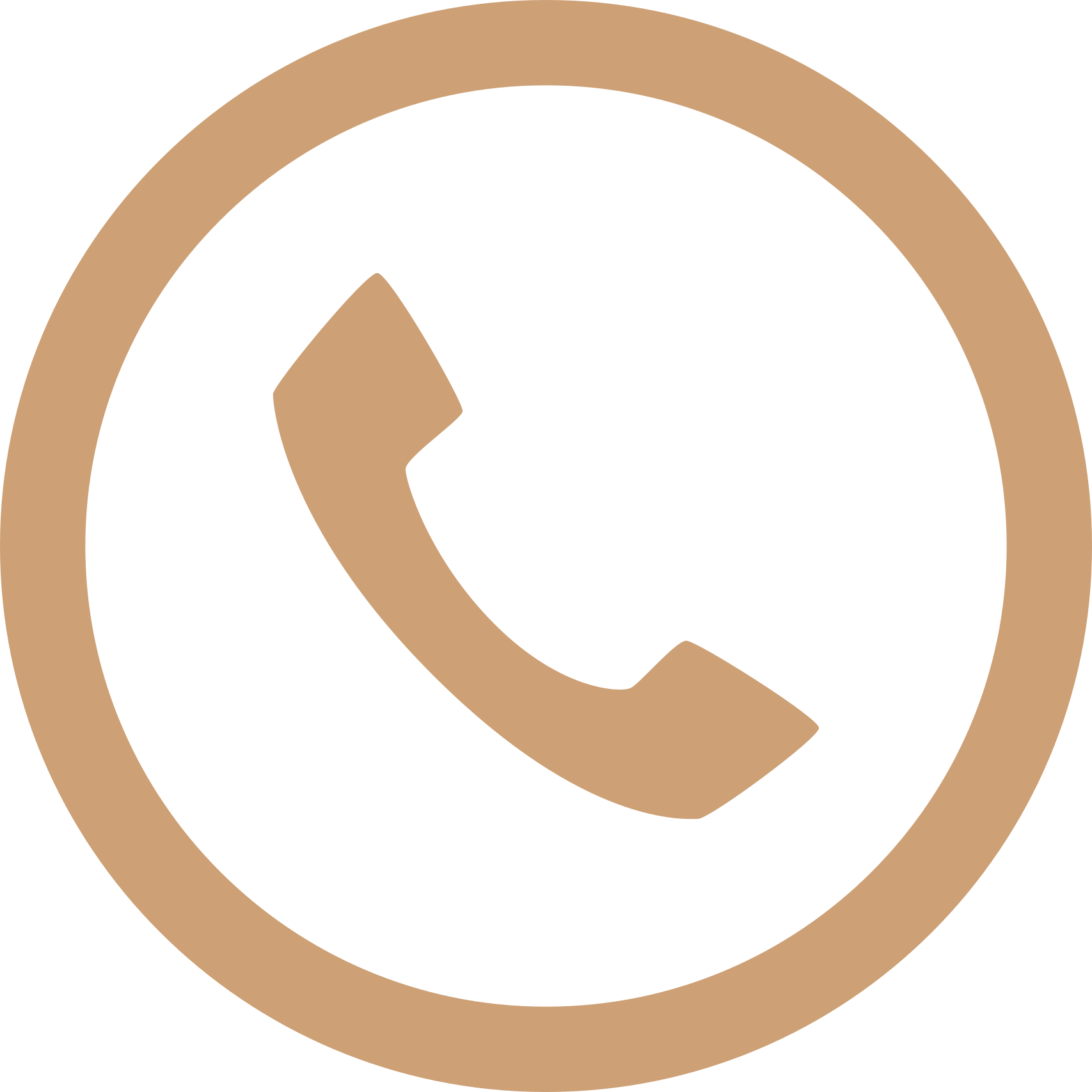 We aim to see all fractures within 24hrs