If you have been informed that you require a hip replacement, one of the most common questions is how long is it likely to last.  
There have been huge advances in hip replacement technology, with new minimally invasive anterior approaches that quicken recovery times and mean you are back into action faster, but how long does a hip replacement actually last, and what is your risk of needing to have it changed over?
Most people believe that a hip replacement will only last 10-15years, and that if you have a hip replacement at a young age, that you are going to need to have it replaced again. The answer to this question is that your chances of having a hip replacement revised are due to many factors, including:
your age when you have the first procedure
the reason for having the hip replacement (eg Osteoarthritis vs other causes)
the types of bearings (moving parts of the hip replacement)
the type of fixation used (cemented vs uncemented hips)
Your gender (women's hips last longer than mens)
your body mass
your activity levels
How long will my hip replacement last?
Approximately 90% of hip replacements should last at least 20yrs from when they were implanted. If you look at the graph below, based upon Australian Data of over 100,000 hip replacements at 20yrs the rate of revision (change over of the hip replacement) is approximately 8-10%.  This means that only 1 in 10 people who have had a hip replacement have required exchange surgery.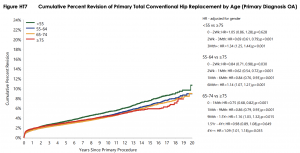 And yes, you can exchange (revise) a hip that has been exchanged already.
Things to consider when deciding whether the time is right to have a hip replacement:
It is a difficult decision to have a hip replacement, however, hip replacement surgery is highly effective at alleviating your symptoms and returning to you to function.  If you have symptoms of hip pain which are:
Not responding to medications (or the medications are causing side effects)
interfering with your ability to walk
interfering with your work
preventing you from exercising and you are putting on weight
interfering with your sleep
preventing you from leading a happy life with your family/friends
Then you should strongly consider a hip replacement.
Techniques that may improve hip replacement lifespan
There are numerous techniques that may assist with the lifespan of hip replacement surgery, these include such things as using an anterior approach, X Rays during surgery, computer navigation, robotics, next generation implants and patient specific customisation.  If you are interested in any of these cutting edge technologies please contact us today to schedule an appointment.
Make an appointment with Dr. David Slattery today
If you're looking for an orthopaedic surgeon in Melbourne who can tick all your boxes, then please book your appointment at David Slattery today.